MODERN ART

"Oriental Towers" CD edition
"Underwater Kites" CD edition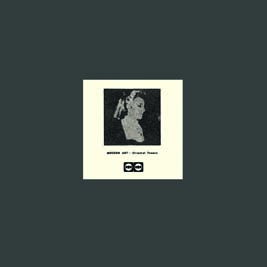 Another entry from the darkly enchanting minimal synth-pop and psych-tinged world of The Modern Art.

"Now this is my kind of icy, desolate lo-fi music. A lot of 80's music that I listen to nowadays seems to predict the coming of vaporwave & hypnagogic pop 25+ years later, and this album is no different, even if it's only really predicting the bleaker aspects of the latter. Still, this stuff is occasionally very pretty ('Stars')... There's plenty of diversity on a track-for-track basis: compare the dreaminess built out of layered acoustic guitars on 'Beautiful Truth' to the more energetic and mechanical 'Little Ballerina.' Or just compare any other track to the untitled closer, which is basically ambient guitar + some echoed sample hovering off in the distance."

"Arriving in the wake of inspirational releases from Joy Division, Cabaret Voltaire, Clock DVA and Throbbing Gristle, Modern Art'... pinched those templates into a range of nervy, minimalist styles porous to influence and defined by the moody character of Gary Ramon's vocals and his feel for expressive, evocative melody." —Boomkat

Formed by Ramon in the early 1980's, Modern Art released two albums on vinyl, and a significant amount of impossible-to-find cassettes. Some of this material was compiled in a highly regarded 3-LP (sold out) box set, made in 2013 by Vinyl on Demand. This remastered reissue of "Oriental Towers," their second cassette album, originally released in 1983, also includes five previously unissued tracks from that session—two of which are not on our recent LP reissue. On this album you will find examples of what was going on in England during the pinnacle of the post-punk scene—an inspired time that encouraged young musicians to develop music in their own home studios, a D.I.Y. approach that was radical at the time and which still resonates.

•Limited edition of 300 copies.

•First time CD reissue of Modern Art's second cassette album

•Includes five bonus tracks from the album session!

Track List:
01. Dreaming Again
02. Discover
03. Sad Delusion
04. Sand in Your Eyes
05. Oriental Towers
06. World You Belong
07. Stars
08. Saturday 11th June 1983 (Previously Untitled)
09. Light Comes Down
10. Little Ballerina

CD Bonus Tracks:
11. Figure of Eight
12. Calico Shadows

links to album samples:
https://soundcloud.com/colortapes/sad-delusion
https://soundcloud.com/colortapes/modern-art-discover

link to youtube clip of modern art "oriental towers" on MTV:
https://www.youtube.com/watch?v=j3ZWvR8J4X4

Catalogue number:
COLOR CD 07/LION
UPC: 778578111724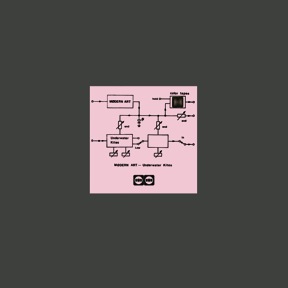 "Guitar, drum machine and keyboards creating a calm yet dark atmosphere, sometimes psychedelic and no way mellow. Truly a great lost gem!" —Mutant Sounds
Welcome to the darkly enchanting minimal synth-pop and psych-tinged world of The Modern Art. As an introduction to the world of Coil and Current 93 collaborator Gary Ramon and his orbiting bandmates, you can't do better.
Formed by Ramon in the early 1980's, Modern Art released two albums on vinyl, and a significant amount of impossible-to-find cassettes. Some of this material was compiled in a highly regarded 3-LP (sold out) box set, made in 2013 by Vinyl on Demand. This remastered reissue of "Underwater Kites," their very first cassette album, originally released in 1982, includes five previously unissued tracks from that session—two of which are not on our recent LP reissue. On this album you will find examples of what was going on in England during the pinnacle of the post-punk scene—an inspired time that encouraged young musicians to develop music influenced by the likes of Joy Division, Cabaret Voltaire, Throbbing Gristle and Clock DVA.
"...epitomise(s) the open-ended diversity of that era, adroitly encompassing everything from wiry, Suicide-like night-stalkers such as 'Hello/Goodbye'... whereas 'Landscape From A Dream' is up there with Martin Hannett and Joy Division's most atmospheric productions, and the remarkable 'Tropic Of Cancer' shimmies into dubbed-out 4th world electro..." —Boomkat
•Limited edition of 300 copies
•First time CD reissue of Modern Art's debut cassette album
•CD version includes five bonus tracks—two of which are not on our recent LP reissue!
Track List:
01. Hello/Goodbye
02. TV Screen
03. Landscape From A Dream
04. Images In Sand
05. Death Wish
06. Protect & Survive
07. Tropic Of Cancer
08. Monochrome Dance
09. 46 Botanical Species
10. (Trying To Find) The Hidden World
Bonus Tracks:
11. Vision
12. The Back Door Is Open
13. Fiction & Literature
14. Theme For A Programme
15. Underwater Kites
links to album samples:
https://soundcloud.com/colortapes/modern-art-hellogoodbye
https://soundcloud.com/colortapes/modern-art-tv-screen
https://soundcloud.com/colortapes/modern-art-tropic-of-cancer
Catalogue number: COLOR CD 05/LION
UPC: 778578111526