WE ALL TOGETHER & FRIENDS
"We Are Not Together"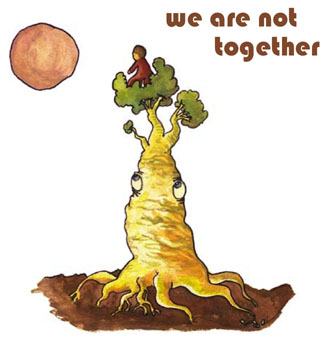 Second joint effort of Lion Productions and Repsychled Records of Peru brings together an abundance of rare tracks recorded at MAG studios in Lima, Peru between 1968 to 1974 by members of We all together along with various musician friends of the time (and a few relatives too). Some of the songs are originals, others are covers—what they all have in common is the musical skill that Carlos Guerrero, Saúl Cornejo, Manuel Cornejo, Ernesto Samamé, Félix Varvarande and Carlos Salom brought to these varied projects—some recorded prior to, some after the creation of their great band. Eight different groups of musicians (Illicit, Smog, Carlos Guerrero & Nilo Espinosa orquesta, FE 59, Cerro Verde, Beto Villena & We All Together, and Monik) produced rich and varied music of uniform excellence! Audio mastered from the original tapes using tube amplifiers by Saúl Cornejo, Miguel Yance and Andrés Tapia in MCA Studios, Lima – Perú; watercolors and drawings painted by Manuel Cornejo during 1970 –1972.
Track Listing
1. Light My Fire
2. Suavecito
3. Thank You
4. The World Is Getting Worse
5. Maybe I Know
6. Forgiveness
7. We Wish to Be Listened
8. Realize
9. Nunca Seas Triste
10. Estoy Brillando
11. Guess I'm Going Away
12. Leave Your Strange Ways
13. Play It on
14. I Lost a Game
15. The Sandman
16. Time for the Blues
17. Wicked Man
18. The World Is Getting Worse
19. Thank You - (take Rehearsal)
Catalogue number: Lion 616 (CD 1010)
UPC number: 778578061623