WAPASSOU "S/T"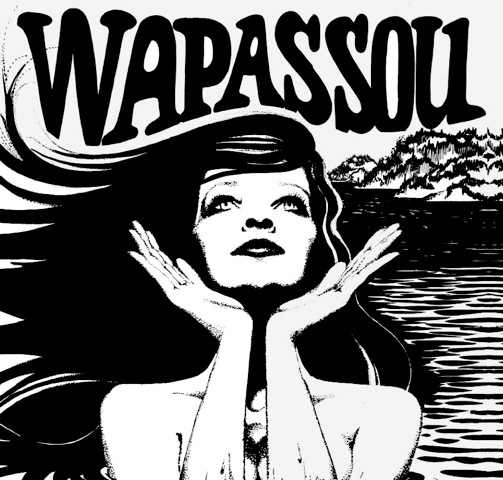 "The ancient fathers of post-rock? The least skillful prog band ever? The answer is somewhere in between: through obsessive symphonies Wapassou show that there is no clear mark between depressive madness, cold fever, and music making." —Mutant Sounds.
Lest we startle you with excited pronouncements of how good this album is, we'll force ourselves to be matter of fact. With their first album, legendary French art-rock band Wapassou found a distinctive musical voice: long and well-developed melodies, rhythmic support from organ—no bass and drums! (more on that later)—prominent violin parts, and guitar doubling-up as a rhythm instrument. They often conjure up something akin to what it might have sounded like had John Cale and Stereolab formed a band in 1974, when this album was released. The five tracks (actually seven, as the singles tracks are equally intriguing) are highly original, always varied and inventive; spacey and ethereal, but steeped in post-psychedelic rock. Although Wapassou are noted for playing without a rhythm section, two of the most striking songs on this album have bass and drums. Why some enterprising dj hasn't created a chill mix from the drum track and provocative vocals on 'Chatiment' (guitarist Karen Nickerl murmuring about the cigarettes she has consumed and that she is a killer, 'Je suis l'assassin,' in the midst of the pulsing drone of the band), we don't know. The 13+ minute long 'Trip' is a revelation: the first two minutes will think you stumbled into the Cocteau Twin's 'Victorialand'; the band then jam for six and a half minutes before they drop one of the trippiest ethereal breakbeat grooves you'll ever hear; the last two minutes of solo sitar are sonic lysergia of the highest quality. A unique style throughout, with slight nods to groups like Amon Düul, Popol Vuh, Czar, Caravan, and Ash Ra Tempel. Includes two bonus tracks from their rare single, recorded in October 1974. A colorful 16-page booklet has the detailed history of the making of the album, plus photos and other marvels. Remastered and sounding better than it ever has.
•Fancy digipack edition of legendary French art rock masterpiece
•Seven intriguing tracks, highly original, varied and inventive; spacey and ethereal, steeped in post-psychedelic rock.
•Limited to 500 copies
Track List
01. Mélopée (3:59)
02. Rien (10:38)
03. Musillusion (3:54)
04. Châtiment (6:48)
05. Trip (13:37)
Bonus tracks:
06. Femmes-fleeurs (2:42)
07. Borgia (2:22)
Catalogue number: LION 684
UPC: 778578068424