The TROYES
"Love Comes, Love Dies: The Troyes Complete recordings (1966-68)"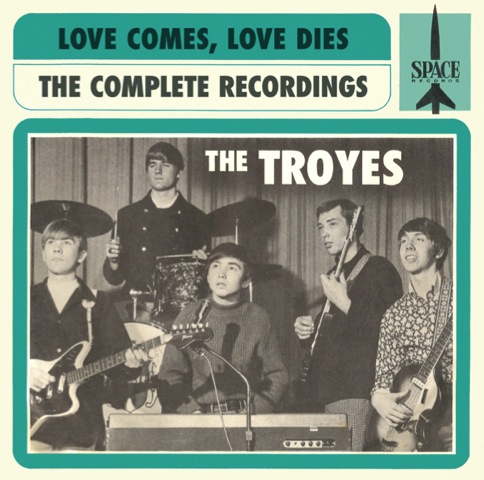 Essential Michigan garage/psych! Propelled by their local chart-topper 'Rainbow Chaser,' Battle Creek quintet The Troyes entered the orbit of bandleader Ray Anthony ("Dragnet", "Peter Gunn"), laying down a multitude of fuzztone laced tracks throughout 1966-1967 that, save for one 7" release on his Space Records label, remained unreleased on vinyl—until now.
The Troyes exploded onto the music scene with 'Rainbow Chaser'. Sensing a new phenomenon, famed bandleader Ray Anthony signed the group to his new rock label Space Records. His faith in the band was so big that nearly two albums worth of material were recorded at United Sound (Detroit). Unfortunately, only two singles were issued. Far-out psychedelia, unhinged fuzz and farfisa garage, moody haunting sounds, face melters (check out 'Corn Flake')—it's all here. Rare photos, radio surveys, newspaper articles, Troyes memorabilia, and the story of a band that could have been big.
"Dare I say, even far better than the oft-lauded, collectible brigade of both reissued and unissued '60s LPs. The Bachs? The Dimensions? The Tempos? The Rising Storm? Public Nuisance? Sorry. This Troyes disc trumps them all." —"Moptop" Mike Markesich,
Ugly Things
"Had a Troyes LP come out in 1967, it would be well ensconced today as one of the Top 5 best from the era" —
Ugly Things
"'Take 'Morning of the Rain' as a starting point: not satisfied with a ferociously twisted Dave Davies-aping "metal riff" they subject you to a blazing torrent of fuzztone and a growl of feedback topped with sinister Farfisa tones—a hundred Nuggets sets are woefully bereft of this unissued scorcher." —
Shindig!
•"Essential? You bet." —
Shindig!
•Masters meticulously prepared and cut for vinyl.
•Comes in deluxe tip-on jacket, including photos, newspaper articles, and the story of a band that could have been big.
•Edition of 500x copies
Track List:
Side One:
1. Rainbow Chaser (Unedited Version)
2. The Good Night
3. Morning Of The Rain
4. Tomorrow
5. I Don't Need You
6. Someday You'll See My Side
Side Two:
1. Love Comes Love Dies
2. Blanket Of My Love
3. Mari
4. I'm Gone
5. Turn Around 6. Jezebel
Side Three:
1. Help Me Find Myself
2. Rainbow Chaser (Alternate Version)
3. Why (45 version)
4. I Don't Need You (Backing Track)
5. You Mind Is Showing
6. Tomorrow (Demo Version)
Side Four:
1. Change About
2. I Know Different
3. She Said To Me
4. Why (Alternate Version)
5. Rainbow Chaser (45 version)
6. Corn Flake
a link to four mp3 sample tracks!
https://spaces.hightail.com/receive/c9EkXTcQnX
Catalogue number: LION LP-167
UPC: 778578316716