GERARDO MANUEL & EL HUMO "Apocallypsis"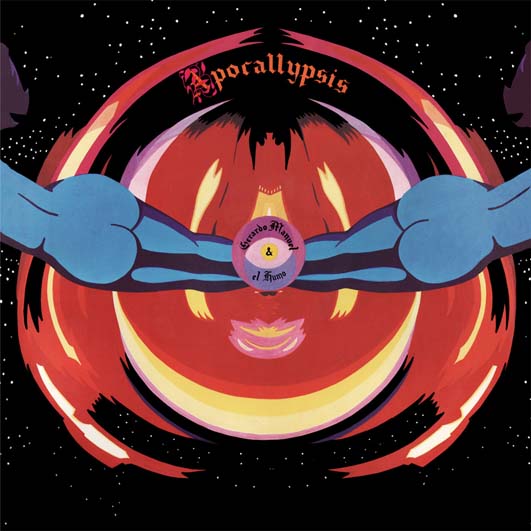 By the start of 1970, young Peruvian musician Gerardo Manuel Rojas already had an impressive body of work with various rock bands: The Doltons (in Ica), Los Doltons (in Lima), Los Shain's and The (St. Thomas) Pepper Smelter; he had recorded to that point five LP's and many 45 rpm records. He was 24 years old. And Gerardo's work would continue with the implementation of a recording studio at the El Virrey label office. The label had hired German engineer Gerhard Nieckau for the installation of a new Neumann 4-channel recording console; they also asked Gerardo to act as Nieckau's partner, and asked him to get musicians to perform the first test runs of the recording set up. The musicians came to the studio to record and rehearse during the hours that the studio was not in use, from ten at night until sunrise. What resulted was a kind of "ghost" band that recorded throughout the night. For this project, Gerardo joined with guitarist "Pico" Ego Aguirre, bassist Jorge "Coco" Pomar (both from Los Shain's) and drummer Freddy "Pure" Sources of the group La Nueva Cosecha (The New Crop). After a month of testing the new studio, (they had already recorded more than 200 hours there), El Virrey suggested that they release an album with some tracks from those sessions. That album, "Apocallypsis," was the first hard rock album recorded in Peru; it was released on vinyl in August 1970. The album includes five original songs, plus versions of tracks by Grand Funk, Liquid Smoke, Jimi Hendrix, and Question Mark and the Mysterians. Before the LP came out, El Virrey released two 45rpm singles that are included on the CD as bonus tracks. This special edition of a South American classic also includes a booklet with some terrific photos and memorabilia + liner notes and lyrics.
Tracks:
01. Apocallypsis
02. Are you ready?
03. Looking for tomorrow
04. Lonely night
05. Power of soul
06. (I will bring you) flowers in the morning
07. Where did you go?
08. Rock & roll soul
09. I can do it, if you do it
10. 96 tears.

Bonus Tracks:
11. Raindrops keep falling on my head
12. Where did you go? (single version)
13. Looky looky;
14. Anoche no dorm'.

Catalogue number: LION 7657
UPC: 778578765729