KATH "1" (original album) + Unreleased Material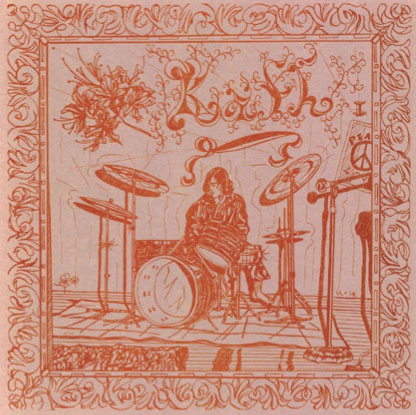 Not many albums can get you in the mood to blow out your speakers quite like Kath, a band that evolved from local Maryland 1960's band Badge. This is an authentic low-fi DIY effort, recorded in the home of the band's leader (and, yes, actually dedicated to his pet monkey—and his girlfriend!), originally released in 1974 in a micro edition of 60 hand-made copies, and later reconfigured for a legendary Rockadelic label LP version. Truth to tell, the Kath album is full of well written melodic songs with loose, semi-ramshackle, low-fi/no-fi production values. Nothing gets down and dirty quite like 'Say What You Feel,' with its blown out bass, killer guitar and drums, echoed vocals and sound effects; well, actually, 'Love Me Down' is equally potent. The band also had a fondness for tape experimentation ('Seagulls') and simply screwing around ('Toilet Theme'). As Patrick the Lama said in Acid Archives, "Obscure and impressive melodic basement garage/psych excursion with a lo-fi atmosphere that would have most purveyors flip out, hits the Ampex two-track echo & tinny drum sound dead on.... At times the vibe is almost like Mystery Meat or Index, and that's not something you run across every day. A totally outside garage/psych/private LP that feels as personally projected as those Michael Yonkers sides. Nuts lo-fi recording quality and impossible-to-figure production values gives this a nicely zonked almost real-people vibe. Keyboards, fuzz, heap of amateur avant spirit and a cover of 'Norwegian Wood' that ranks up there as one of the few listenable Beatles covers ever cut by teens with brains." We've also included Badge's excellent 1978 five-track EP as bonus tracks. And since too far is never far enough for Lion Productions, we've also added an entire second disc of outtakes from the Kath recording sessions, plus other related home recordings. This 140-minute double disc set comes with twenty pages of extensive liner notes by Kath and Badge leader Val Rogolino, and a plethora of photos from his personal stash.

Track List:
Disc One: Kath "1" (original album):
1. I Want to Love You (3:14)
2. Lonely Again (2:50)
3. Goodbye Sunshine (3:35)
4. Tell Laura I Love Her (4:10)
5. Seagulls (1:55)
6. Silly Willy (3:34)
7. It Doesn't Mean (5:10)
8. Candleman (3:19)
9. Norwegian Wood (2:48)
10. BLPSVC (4:10)
11. Typical Recording Session
(with breakdown of instrumental version of Mother Dear) (3:48)
12. Mother Dear (3:14)
13. Say What You Feel (2:52)
14. Toilet Theme (with part of Say What You Feel)
15. She's the Girl I Love (4:05).
Bonus Tracks—Badge EP:
16. Love Me Down (2:54)
17. I Hear Them Laughing (3:54)
18. As I Looked (4:00)
19. Just Like You (2:16)
20. She (2:13)

Disc Two: Unreleased Material:
1. It Doesn't Mean (EP version) (4:29)
2. I've Got That Feeling (3:53)
3. Tearfall In The Rain (5:42)
4. Look To Your Window (3:47)
5. The Great Pretender (6:43)
6. Little Miss (3:31)
7. Keep Tryin' (2:23)
8. Do You Wanna Dance (3:45)
9. I Need You (2:28)
10. Everything I Do (2:38)
11. Sitting All Alone (2:57)
12. When You Walk In The Room (4:03)
13. Just A Little Smile (4:14)
14. I Lie Awake (5:06)
15. Singing Out Thoughts To My Lady (5:27)
16. A Gentle Breeze (3:57)
17. Le Fini (2:56)
18. C (1:43)
Catalogue number: LION 651 (2xCD)
UPC: 778578065126