INDEX "Black Album + Red Album + Yesterday & Today" 2xCD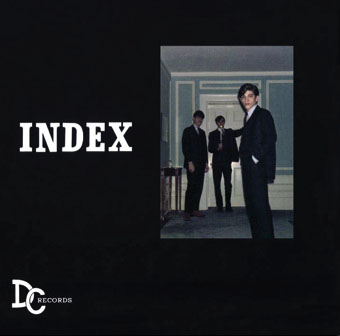 Two holy grails of psychedelia (from 1967-68), coupled with a disc of recently discovered unreleased material, all from the original tapes!

In the mid 1960's, Detroit Michigan was a thriving industrial city. It was at the edge of a cliff, however. The great ethnic diversity in the inner city was a brewing powder keg of civil unrest. This, coupled with a disillusioned population struggling to make some sense of a questionable war in the rice paddies of Viet Nam, set an uneasy and troubling tempo for the future. Still, there were pockets of communities in the Detroit area where things were good and economic life was vibrant. The Grosse Pointes were such communities. It was on the outskirts of this political and racially tense era, in the affluent suburbs just outside of the city of Detroit, that Index was formed. The music of Index has been lauded by music heads for decades, and with good reason: it is bizarre, atmospheric, and "home-made" (in the best of all possible ways); the band has a druggie sound, with songs full of feedback and fuzzy guitars, hazy guitar riffs and loud rhythms. Hidden amongst the echoing canyons of sound there's some snotty post-punk attitude wrapped up in that trippy velvet fuzz; a wonderful bleak sound, both droning and murky—the atonal side of late 1960's rock that would leave the most lasting impression on those who would eventually become punk, post-punk and indie rock artists like Joy Division or the Fall. Includes a 32-page booklet, written by Index drummer Jim Valice, detailing the band's rock and roll adventures, replete with photos and lyrics; printed on FSC recycled, chlorine-free, 100% post-consumer fiber paper manufactured using biogas energy.
Disc One—The Black Album and The Red Album
The Black Album
1. Eight Miles High (3:33)
2. Israeli Blues (4:05)
3. John Riley (4:00)
4. Turquoise Feline (3:30)
5. Rainy, Starless Nights (2:25)
6. Fire Eyes (4:08)
7. Shock Wave (3:20)
8. You Keep Me Hanging On (3:00)
9. Feedback (4:50)

The Red Album
10. Turquoise Feline II (3:50)
11. I Can't See Nobody (3:00)
12. Spoonful (4:50)
13. Eight Miles High (3:33)
14. New York Mining Disaster (3:20)
15. Paradise Beach (3:30)
16. Break Out (2:45)
17. I Love You (3:40)
18. Rainy, Starless Nights (3:10)
Disc Two—Yesterday and Today
1. Jill (4:37)
2. Long Tall Shorty (3:38)
3. Mustang Sally (2:42)
4. You Like Me Too Much (2:10)
5. Yesterday and Today I (2:19)
6. It's All In Your Mind (2:08)
7. I Got You (I Feel Good) (2:39)
8. Dear Friend (3:03)
9. Yesterday and Today II (4:09)
10. I Met a Man (3:04)
11. Morning Dew (3:14)
12. I Used to Be a King (2:53)
13. 431 Lakeshore Drive (2:47)
14. Don't You Know (4:43)
15. Sunny Skies (4:14)
16. Kick It Out (2:58)
17. Helplessly Hoping (2:38)
Catalogue number: LION 644 (2xCD)
UPC: 778578064426
SOLD OUT