HOJAS "Mis sueños piden"
plus seven bonus tracks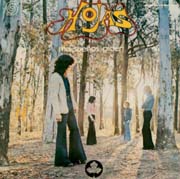 If you were in Uruguay in 1971, you would have known along with everyone else that Hojas (the Leaves) was the best band for melodic rock—what we now might call power pop—and slow-burn rock ballads. This was the year of their hit singles, 'El mundo es una flor' (The World is a Flower) and 'Caminar en la lluvia'. With their supple guitars, dreamy pop/psych melodies and driving rhythm section, Hojas rose to prominence quickly; and of course, it helped that most people agreed that the band's vocalist César "Cacho" Badin had one of the best voices they had ever heard singing rock music. But Hojas were not just a singles band. They recorded an LP, "Mis sueños piden" (Sondor LP 44009), released by the Sondor label in August of 1973. The problem was that the album's release very nearly coincided with the arrival of a military dictatorship in Uruguay, which effectively ended the career of the nations' top bands, including Hojas. This carefully researched reissue contains the entire Hojas LP (its reissue debut), supplemented by seven bonus tracks, which include rare singles and an unreleased Badfinger cover. The sixteen page booklet includes historical background on the Uruguayan scene, details of the band's past, plenty of photos, as well as a brief overview of the legendary Sondor label.
1 Lo Has Pensado Tu?
2 Sincero
3 Mis Sueños Piden
4 El Mundo Es Una Flor
5 Mi Ciudad A Través De La Ventana
6 Somos Extraños
7 Hazlo Ya Amigo
8 Tan Solo Un Dia De Amor
9 Yo Solo Estoy (1972 B-Side)
10 Caminar En La Lluvia (1973 A-Side)
11 Sin Ti (Previously Unreleased, 1973)
12 No Pierdas La Fe (1975 A-Side)
13 Cada Uno (1975, B-Side)
14 Imgínate En El Mundo (1975, A-Side)
15 Un Buen Dia (1975, B-Side)
Catalogue number: Lion 606
UPC number: 778578060626