HEAVEN & EARTH "Refuge"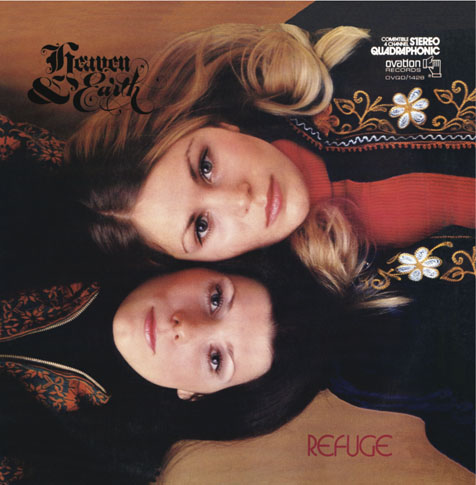 This reissue has been a long time coming, in no small part because we wanted it to be perfect. We're happy to finally be able to announce the re-release of this psychedelic folk/funk beauty from 1973, featuring the gorgeous voices of Pat Gefell and Jo D. Andrews (and produced by Space Age percussionist/composer Dick Schory for his short-lived but influential Ovation Records imprint). At one time this was an album completely unknown outside of Chicago, where the label was based; but these days, word gets around, and tracks like 'Feel The Spirit' and 'Jenny' have been making the rounds on the DJ circuit. No matter what your musical taste is—psych-folk, funk, soft rock—this LP seems to have something special to offer. This is due in part to notable backing from veterans like bassist Phil Upchurch (Curtis Mayfield, Otis Rush, Stan Getz, Groove Holmes, and Cannonball Adderly), and space age pop maven Bobby Christian on drums and percussion. But primarily, the perfection that this album emanates is due to the clear voices and intelligent songs crafted by Gefell and Andrews. Our Lion Productions replica LP version comes in an old style tip-on gatefold jacket with lyrics printed inside, and includes an insert packed with band history and rare photos. It is a quality vinyl pressing, newly mastered from the original tapes; the sad news: this LP version is limited to 750 copies. As for the CD edition, our Lion Productions deluxe gatefold mini-LP sleeve CD version has two booklets—one packed with rare photos from the Ovation Records archives; the other with musings by both members of the group on their time spent as Heaven & Earth. Better yet, the CD version has fifteen bonus tracks, including both sides of the duo's two singles, as well as alternate takes and some never before released songs plucked from the vaults. Now here's more sad news: the CD version is limited to 1,000 copies.

Track List: 1. Jenny (3:20)
2. Voice in the Wind (2:14)
3. To a Flame (2:29)
4. Tomorrow is a Long Time (4:11)
5. Refuge (2:25)
6. Sixty Years On (3:53)
7. Song for Craig (2:45)
8. Tell Me How to Know You (2:40)
9. A Light Is Shining (2:35)
10. Feel the Spirit (4:43)
Bonus Tracks (CD edition only):
Singles:
11. Voice In The Wind (single mix) (2:36)
12. Jenny (single mix) (2:57)
13. Home For Christmas (OV/1038) (2:58) (single A-side)
14. Country Women (OV/1038) (2:28) (single B-side).
Unreleased:
15. We All Need A Friend (1:57)
16. You're The Reason (2:28)
17. Unknown (2:58)
18. Joy (3:11)
19. Jenny (alternate take) (3:33)
20. Voice In The Wind (alternate take) (1:41)
21. Refuge (alternate take) (2:23)
22. Song For Craig (alternate take) (2:48)
23. A Light Is Shining (alternate take) (2:59)
24. Country Women (alternate take) (2:26
25. Hawg For You Baby (2:11)
CD edition catalogue number: LION 652; UPC: 778578065224
LP edition catalogue number: LION/ROCK LP-114; UPC: 77857831141