DINO & MONTEVIDEO BLUES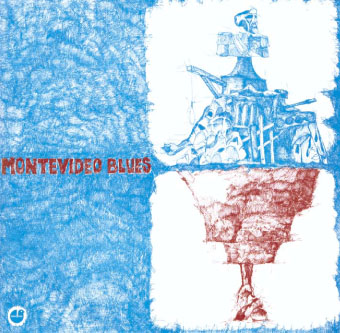 The one and only album by Dino & Montevideo Blues (Macondo GAM 551, 1972) deserves to be a serious contender as one of the most important, and as it happens, most grooving, records ever released in Uruguay. But there is another reason that the album has attained exalted status: the incisive power of the lyrics, which are all the more impressive considering the national turmoil out of which they were created. Montevideo Blues was founded by Uruguayan song-writing legend Gastón "Dino" Ciarlo as a way to fuse the rawness of rock music with obscure native Uruguayan rhythms like malambo, milonga and chamarrita—a logical direction to pursue after Dino had attempted pop/candombe fusions in his solo recordings. "At the time, we were revolutionary and looking for change," said Dino. Montevideo Blues demonstrated an unyielding and combative attitude. During live shows in 1971, Dino often criticized the government—a level of political commitment reflected in the lyrics of the songs, some of the most radical ever set to music. Eduardo Mateo, the sacred monster of modern Uruguayan music, was succinct: "You have decided to prune the tree," he said to Dino. The album opens with one of Dino's most famous songs 'Milonga de Pelo Largo' ('Milonga of the Long Hair'), a sinuous song transformed by the arrival of the dictatorship into a hymn of Uruguayan popular resistance. The rest of the album tracks have an edgy, atonal quality, with terrific unconventional angular guitar and a kind of ragged glory, all driven along by insistent grooving rhythms, whether from native drums or the clicking of drumsticks. Bonus tracks include beat-rockers 'Sendero de Rosas' and 'Rubio es el color,' from the rare "La Juventud" compilation album, as well as both sides of Dino's two early singles for RCA Vik. A 32-page booklet is packed with photos, detailed band history, and lyrics for this important Uruguayan band.
Tracks:
1. Milonga de Pelo Largo
2. Para Hacer Musica Para Hacer
3. Pongamos Muchas Balas al Fusil
4. Si Te Vas
5. Montevideo Blues
6. Hermano Americano, Sentimiento
7. Un Color
8. Charmarrita el Chiquero
9. Hay Veces/Canta Canta Canta
10. Que Dira El Santo Padre
11. Sendero de Rosas
12. Rubio es el Color
13. Deja esa Vieja Tristeza
14. 19 de Octobre
15. Hay Veces
16. Canta Canta Canta.
Catalogue number: LION 614
UPC: 778578061425