the DEEP "Psychedelic Moods of the Deep"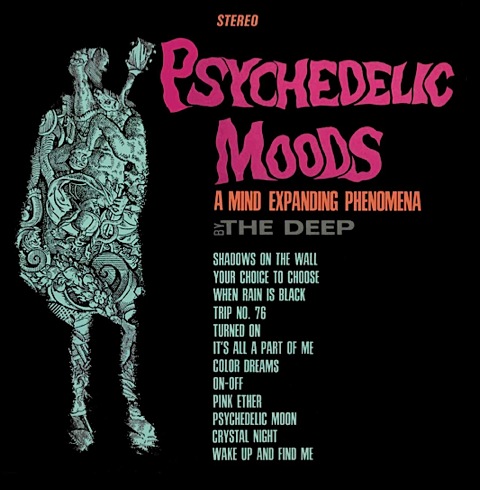 "The best Nuggets-era garage album ever."
—
www.lysergia.com
Expanded deluxe edition of The Deep's one and only album, originally released in 1966 and now well-established as a psychedelic classic. One night in a darkened Philadelphia studio, the Deep (Rusty Evans, songwriting partner and producer Mark Barkan, the legendary David Bromberg, whose credits include playing with Bob Dylan and many others, plus a bevy of talented musicians) laid down tempestuous garage punkers, sweetly-twisted ballads and ambiguous weirdness, all rife with hyper-psychedelic lyrical flashes of a rolling midnight expressway through the subconscious mind. A perfect representation of the psychedelic sound: free-form poetry, infectious drum beats, fuzzed out guitar, and playfully plucked bass (and vibes and tympani and so on), swirl together, coalescing into some of the most impressive psychedelic rock you'll hear. Cuts like 'Your Choice To Choose,' sound very Seeds-like or proto-Velvet Underground, Lou Reed snarl and all; others like 'Shadows On The Wall' and 'Wake Up and Find Me' are haunting acid ballads: the whole point of the album was to thoroughly explore the hallucinatory agony and ecstasy of a 12-hour Technicolor dream... although the end result is more amphetamine edgy than acid-soaked trippy. The Deep "Psychedelic Moods" pre-dates its closest kindred sprit in sound and energy (albeit not subject matter): "The Velvet Underground and Nico" came along five months later, and the world of music shifted on its axis—but too late for the Deep.
This 3xLP release of "Psychedelic Moods" is taken from the original four-track master tapes. In addition to the superlative master takes, there are three sides of out-takes and alternates from the Deep original four-track session tapes. This set also marks the vinyl debut of all known recordings by
Inner Sanctum (aka Hydro Pyro)
, another LSD trip project produced by Mark Barkan in 1966. Tip-on gatefold art has liner notes detailing the mysterious rise and fall of this New York City band. Made with full co-operation of original Deep producers, Mark Barkan and Rusty Evans. A definitive example of the psychedelic sound.
"Something of a psych fan's dream, this LP was recorded in August 1966, when the idea of a conceptual acid album was completely uncharted territory. Consequently, Rusty Evans and his NYC ex-folkie pals managed to create an LP that sounds fresh many decades later. The twelve tracks are essentially a series of musical trip reports covering the whole emotional spectrum, from chaos and euphoria to introspection and melancholy, with an intense, challenging atmosphere." —Patrick Lundborg, Acid Archives
•Remastered from the original four-track tapes—including three sides of alternates

•Vinyl debut of all known recordings by Inner Sanctum (aka Hydro Pyro)

•Housed in an old school "tip on" gatefold jacket

•"The best Nuggets-era garage album ever." —www.lysergia.com
a link to an mp3 sampler, which has a little taste of every track on the original record:
https://www.hightail.com/download/bXBaVWR0R0ZveFBtcXRVag
and because we love you, a link to an mp3 sampler, which has a little taste of every other track on this monster 3xLP set:
https://www.hightail.com/download/bXBaVWR0OW5ubHlxV2NUQw
Track List
Side A—original album
01. Color Dreams 3:00
02. Pink Ether 2:56
03. When Rain Is Black 2:10
04. It's All A Part Of Me 2:44
05. Turned On 2:31
06. Psychedelic Moon 2:47
Side B—original album
01. Shadows On The Wall 3:14
02. Crystal Nite 1:42
03. Trip #76 2:45
04. Wake Up And Find Me 2:52
05. Your Choice To Choose 2:03
06. On Off-Off On 2:12
Side C:
from The Deep sessions
01. When Rain is Black (Alternates) 4:29
02. Trip #76 (Takes 1/2/3) 3:32
03. Psychedelic Moon (Alternate version) 3:14
04. Your Choice To Choose (Takes 1-4) 4:11
05. Trip #76 (Alternate version) 2:47
06. Black, White And Gray (demo version of "When Rain is Black") 1:37
Side D:
Inner Sanctum (aka Hydro Pyro)
01. The House Of Yesterday 1:57
02. ID 2:03
03. Hydro-Pyro 2:06
04. Purple Floating (false start + take) 2:55
05. Snow Petals 2:12
06. Little Tin Soldier 2:32
07. The Man Who Shot Your Mother 1:53
08. Snow Petals (Alternate) 2:39
Side E:
more from The Deep sessions
01. Color Dreams (Alternate version) 3:11
02. Pink Ether (Intro + Take 1) 3:26
03. It's All A Part of Me (Take 1) 4:05
04. Turned On (Take 1-2) 5:12
05. Shadows on the Wall 5:22
Side F:
01. Crystal Night (False starts + Alternate version) 3:42
02. Trip #76 (Take 4) 3:01
03. Trip #76 (Take 5) 3:07
04. Wake up and Find Me (Intro + Take 1) 3:18
05. Your Choice to Choose (Alternate version) 2:07
06. Off On Off On (Alternate version) 2:22
Format: 3xLP
Catalogue number: LION LP-150
UPC: 778578315016