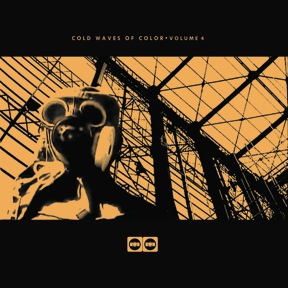 Fourth volume of the completely sold out electronic compilation series from the 1980's color tapes label. As with the other volumes you can find great examples of cold wave, minimal wave and synth electronics made by obscure British bands such as Disintegrators, Mystery Plane, Berserk In A Hayfield and Lives of Angels—all recorded between 1980-1985, vestiges of the 1980's UK cassette underground scene. Comes with poster insert and reproduction of issue 3 of Color Tapes' own in house "Purple Twilight" fanzine from 1985 that features articles on Insane Music, Space Brothers and Lives Of Angels.
"Great stuff. A worthy companion of the "Cold Waves : Minimal Electronics" and "Mutazione" CDs. Anyone who is a fan of Cabaret Voltaire/Human League/Throbbing Gristle/Robert Rental/Chris & Cosey/Coil era electronics will find something they love on this." ★★★★★ Amazon review
"This retrospective is well overdue. As you might expect, much of the material sounds like a cross between early Depeche Mode, curious Italian coldwave and proto-EBM. Pleasingly all the material has been remastered by legendary engineer Denis Blackham, giving the original analogue sounds a whole new lease of life. Essential stuff" -Juno review
"A must have collection of English post-punk rarities sourced from the legendary Color Tapes label" - Boomkat review
•Cold wave, electronic synth pop, and minimal tracks from the Color Tapes archive, recorded between 1981-1985
•Tracks drawn from DIY cassette editions of 100 copies (or less)
Import edition limited to 250x copies.


Album Tracks:
Beatmixer - Danse Electrique
Silicon Valley - Going Out
Berserk In A Hayfield - Start Of Something
Disintegrators - Transmissions Unknown
Silicon Valley - ZX
WeR7 - Word Perfect (Edit)
Mystery Plane - I'll Get You For This
Echophase - Train
Berserk In A Hayfield - Optical
Lives Of Angels - Gateway
Beatmixer - The Beatmixer
links to album samples:
https://soundcloud.com/colortapes/beatmixer-danse-electrique
https://soundcloud.com/colortapes/disintegrators-transmissions-unknown
https://soundcloud.com/colortapes/silicon-valley-zx
https://soundcloud.com/colortapes/wer7-word-perfect
Catalogue number: Color LP 06
UPC: 778578999612