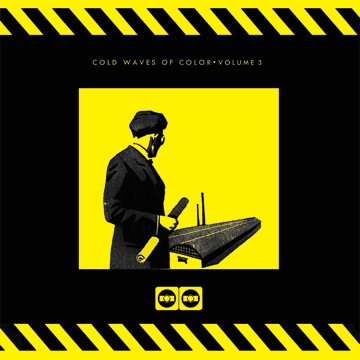 "Those out there who have chased super limited editions of Color Tapes/Discs on Discogs will know how special the underground label was for the English 1980s... Britishness may seem to be mentioned often in how these tracks are talked about, but in a sense the glorious intuition of Color Tapes was to pick up some of the much more European undercurrents in British synth and connect them to other countries, scenes, situations. Listening to this record, you don't hear what we know as the UK sound of synth or coldwave, but something else, a rarefied, joyously experimental scene filled with ideas, perhaps to be picked up now... Oh, and you get an A5 photocopied issue of the Purple Twilight fanzine from 1985!" —Juno Records (Best Reissues and Archival Releases)
Out third collection of rare cold wave from the Color Tapes archives also includes a full color reprint of issue 2 of Color Tapes' own Purple Twilight fanzine from 1985, featuring articles on bands such as Bushido and Mystery Plane, plus The Subway Organization cassette catalogue from 1985. An essential document from the 80's UK cassette underground scene. The majority of tracks from these UK garage cold wave bands used synthesizer, drum machines and sequencers such as EMS VCS3, Minimoog, Korg MS-20, Roland Juno 6, SH-09, TR-808, all playing a crucial part in the development of electronic music in the UK. CD edition comes with three bonus tracks not on the vinyl version!
Praise for the series: "Must have collection of English post-punk synth rarities, sourced from the legendary Color Tapes label, remastered by Denis Blackham, all presented on vinyl for the first time! It's highly likely that these tracks have been barely heard beyond their original 100 edition tape pressings in the early 80's, and thusly this is a bit of a treasure trove, especially when considering the quality of the masters. This is the realest deal for people into minimal wave, Dark Entries and OG wave music. Don't sleep!" - Boomkat review.
•Cold wave, electronic synth pop, and minimal tracks from the Color Tapes archive, recorded between 1981-1985
•Tracks drawn from DIY cassette editions of 100 copies (or less)
•36-page booklet reprint of the second issue of the Purple Twilight fanzine from 1985
•Digipack edition of only 500x copies, w/three bonus tracks not on the vinyl edition!
Track List:
01. Duke Of Disrespect - You Tell Lies (Banging Away)
02. Silicon Valley - X-Cell
03. The Lord - Universe
04. Disintegrators - Oscillations
05. Lives Of Angels - Green On Black
06. Silicon Valley - Holborn Station 3 AM 3rd January 1982
07. Stereo Machines & Kinesis - Excerpt From Cassette No.7
08. Disintegrators - Filter Reactor
09. Berserk In A Hayfield - Club Paris
10. Echophase - Destination
11. Mystery Plane - When The Money Runs Out
12. Lives Of Angels - Red Suit

Bonus Tracks:
12. Modern Art - Opaque
13. Stereo Machines & Kinesis - Excerpt From Cassette No.6
14. Disintegrators - Disintegrate (edit)
MP3 Samples:
01. Silicon Valley - X-Cel
l
02. Lives Of Angels - Green On Black
03. Dukes Of Disrespect - You Tell Lies (Banging Away
)
04. Echophaze - Destination
Catalogue number: COLOR CD 03/LION
UPC: 778578111328