A LION PRODUCTIONS WORLDWIDE DISTRIBUTION EXCLUSIVE: REPSYCHLED RECORDS
We are proud to present the entire available catalogue of titles from REPSYCHLED RECORDS, a label, who specializes in the music of their native Peru. All their titles are deluxe editions in the purest sense: they are sourced from the original master tapes, remastered with tube equipment, contain abundant photos and band history, and are fully authorized by the rightsŪ owners.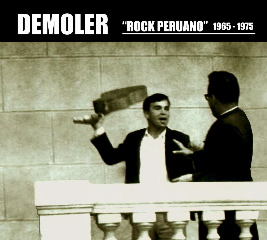 Various "Demoler: Rock Peruano 1965 - 1974" (CD 1015)
Repsychled Records has stepped out in style with this killer compilation of Peruvian rock bands from 1965 to 1974—the first that draws tracks from all three main Peruvian labels, and the first to be entirely from the original masters! How can you go wrong with a disc that starts with the killer proto-punk song that got Peruvians rockin' and rollin' for the first time, Los Saicos' 'Demolicion' (1965); there's a reason that this CD takes its name from the chorus of that song. After Los Saicos got things rolling in Peru, there came garage bands like Los Golden Boys, Los Belking's, Los York's and Los Shain's (all represented here), who between 1966-1969 were the top bands at parties and concerts. During the golden age of 1969 to 1971, bands like (The St. Thomas) Pepper Smelter and Laghonia started to compose original tracks in English—influenced by UK and US rock bands, but bringing a special creativity to their efforts... the reason people still chase down their music now. Moving on, there's the mighty psychedelic "fog" of Los Texao; El Alamo appears for the first time on CD ('Pusher men,' a song which talks about "the Marihuana"); also here are the classic tunes 'Meshkalina' from Traffic Sound and 'Something going' from Telegraph Avenue. El Polen, the first Peruvian psychedelic folk band, brings us a nearly twelve minute song—a trip with acoustic guitars, violin, mandolin and quechua lyrics; full-blown acid folk for sure! Tarkus brings the heavy rock side, with music akin to a mix of Black Sabbath (hard guitars) and Almendra (soft vocals). Jean Paul 'El troglodita,' comes on with a heavy rock blues, with the members of Laghonia as his backing band, a great discovery; We All Together are represented by 'Symbol queen', a great soft pop original which features an ARP Odyssey synthesizer. Los Destellos and Zulú (1974) developed a fusion style between rock, cumbia, huayno and Latin rhythms. And Gerardo Manuel, singer for Los Shain's, (The St. Thomas) Pepper Smelter and el Humo, brings us the perfect closing track, 'Mira bien hermano,' a song about the oppression of the military government, one of the reasons for the end of rock music in Peru in the early 1970's. As with all Repsychled reissues, this release is fully licensed, and as we said, it contains tracks from three different labels: MAG, Iempsa and Virrey. All tracks were remastered: even songs released on earlier Repsychled label reissues were remastered again. The 72 minute full-blooded CD comes in a tri-fold digipack which includes two 20-page booklets: one with full color photos of each artist, and a second with liner-notes in Spanish and English. Enjoy it at high volume!!
BOSSA 70 "S/T" (CD2001)
Bossa 70 was the brainchild of Nilo Espinoza, a Peruvian musician with a Brazilian heart. Nilo, a classically trained musician, was the top flute player in Peru in 1960. In 1961 he was honored with a scholarship to Austria to study his instrument. It was during his five years in Europe that he developed a profound attraction for all forms of jazz. Upon his return to Peru in 1966, Nilo approached the best musicians he could find to form a group to play bossa-nova, the new music craze from Brazil. In 1968, the group changed their name to Bossa 70, to reflect the musical style they were going to offer. Their new singer was Carmen Rosa Basurco, a beautiful woman with an electrifying personality, who could sing in English, Portuguese and Spanish. As a means to promote their new name the group recorded a mini-LP with four fantastic songs (100 copies were pressed and giving as a prize during the concerts and to personal friends and family). In 1970, they recorded an LP for Phillips (issued in Peru by El Virrey). The label pressed a mere 300 copies, which were sold quickly. The members went in their own musical directions in 1972—Enrique "Pico" Ego Aguirre, leader of Los Shain's went on to form the band Pax; Otto De Rojas played keyboards on the Traffic Sound "Tibbet's Suzettes" album; and Nilo Espinoza formed Nil's Jazz Ensemble, who went on to record the only great jazz funk LP from Peru.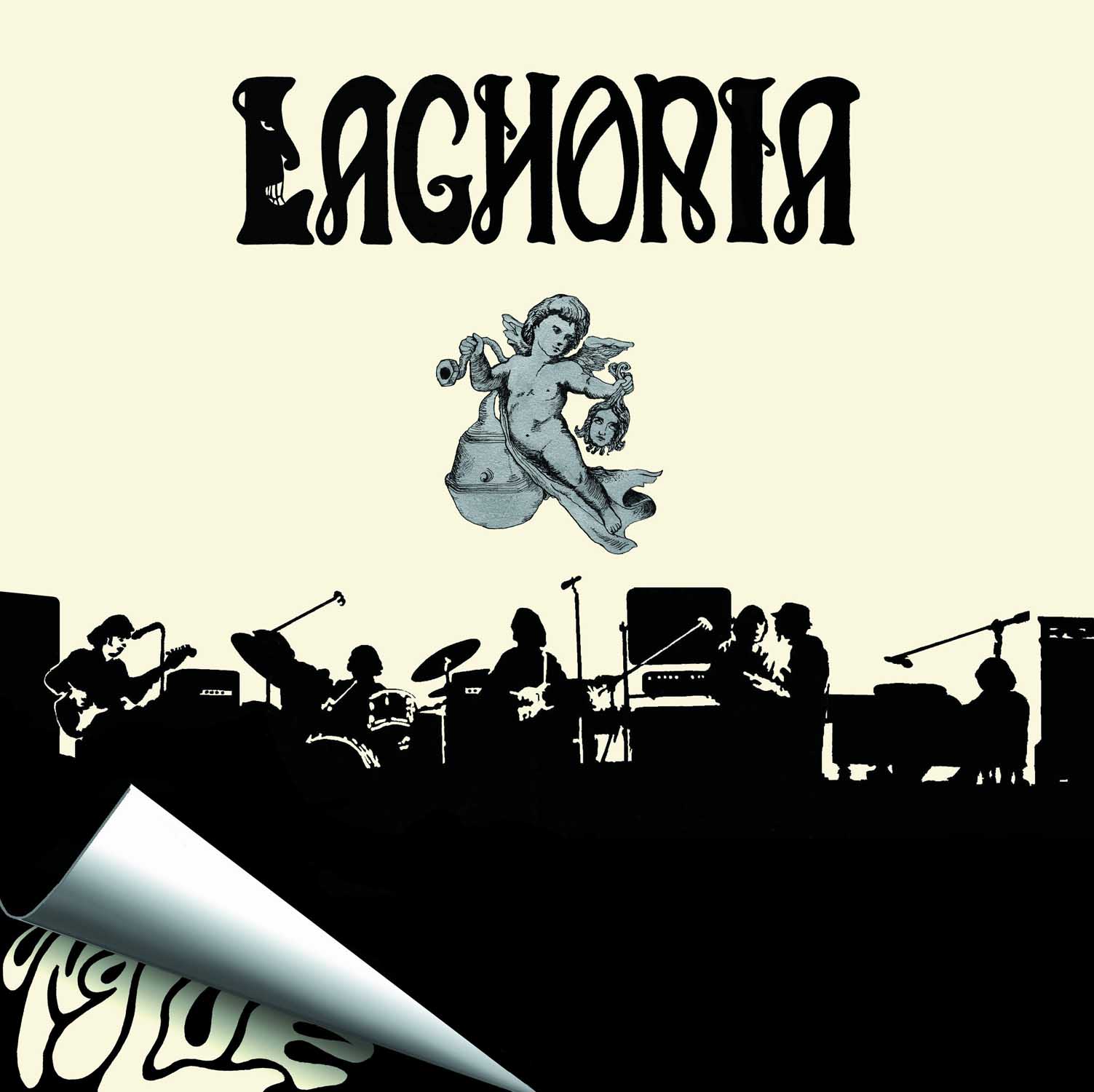 LAGHONIA "Unglued"(CD 1001)
"rare tracks from famed Peruvian psych band, recorded at home with different portable machines. This disc doesn't have the same quality as the band's studio recordings, but it does have the same groove and spirit. If you already know about Laghonia and their albums "Glue" and "Etcetera," you probably wonder what this release is exactly. For the first time ever, it is 54 minutes of unprecedented music recorded between 1967 and 1970, two unreleased tracks from the rehearsals sessions of their first album, plus the song 'Confusion in the Street,' recorded in concert. If you collect South American psychedelic music or are starting to get involved with this kind of music, you should know this unique peruvian band, one of the few in South America that used Hammond B2 organ. They played only original compositions influenced by the Beatles, the Kinks, the Yardbirds, Cream and many others. This release is completely official and licensed. Comes in a special mini-LP package, including an insert. Special note: original Laghonia guitarist Dave Levene only plays lead guitar on a few tracks–on all other tracks Saul Cornejo plays the lead guitar and Alex Abad plays rhythm guitar."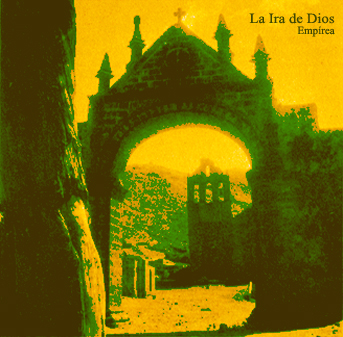 LA IRA DE DIOS "Empírea" (REP-3001/OGR-004)
second release—six previously unreleased tracks recorded between 2002 to 2005—from heavy Peruvian power trio whose name translates as "The Wrath of God," a record made available by the combined efforts of three labels. New songs, one a cover version of a track by Los Saicos (Peruvian garage band from 1965), plus three alternate versions of songs from the band's previous album "Hacia el Sol Rojo". A mix of songs which range from space rock to doom rock; powerful heavy rock chords, capped by the long, hypnotic title track. Artwork has photos from every period of the band's existence. Includes a raw 8 minutes of video footage of the band playing the unreleased song 'Quemando,' in concert sometime in December 2005. A total of 55 minutes of pure heavy psych rock 'n roll!!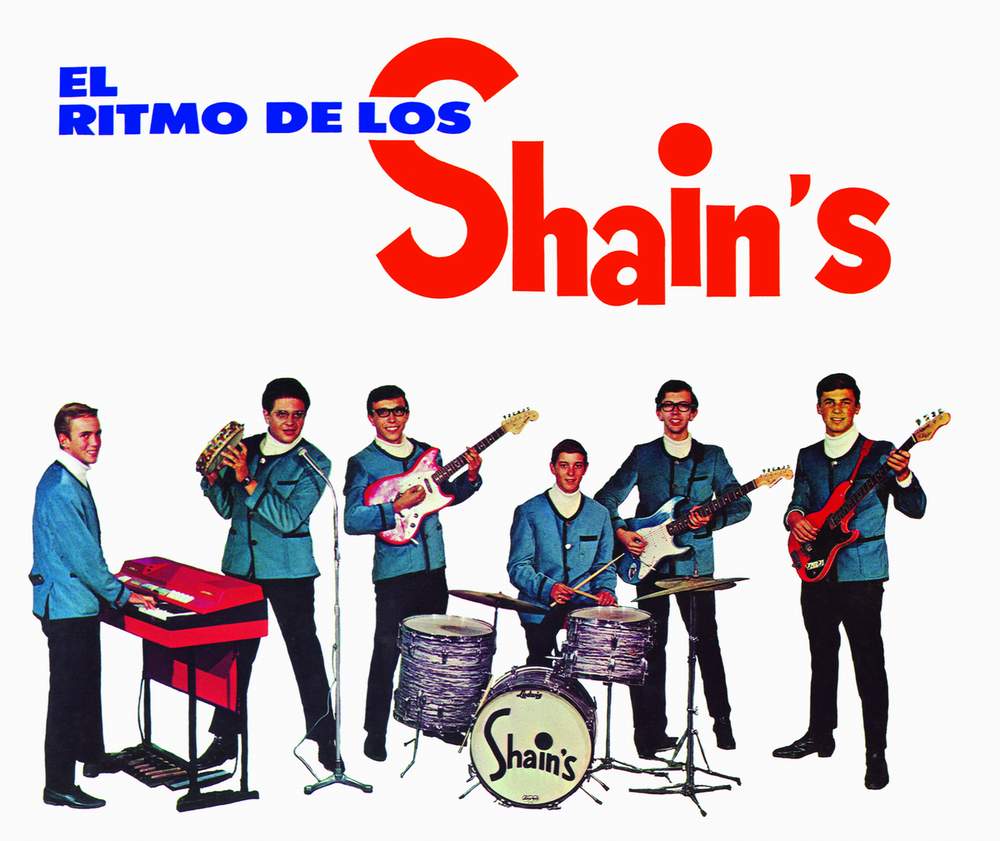 LOS SHAIN'S "El Ritmo de Los Shain's" (1966) (CD 1012)
irst time on CD! In the middle of 1964, a group of adolescent boys came together to make music, without realizing that they were at the starting point of the history of one of the most important rock bands rock in Peru: Los Shain's. The band's debut album, "El Ritmo de Los Shain's," was originally recorded in Peru in 1966; this fine 14-track collection includes the whole debut album, which sports Spanish versions of Nova's 'The Crusher' and the Animals' 'We Got to Get Out of This Place', plus a couple of original tunes, and some great instrumental tracks too. Their music is chock full of wild sounds, good screams, fast guitar–in other words, great garage rock tunes, with Farfisa keyboards and loud drums. This disc features sound taken from the original master tape reels, remastered using an analogue tube amplification system; this has made it possible to obtain superior sound quality without losing any of the texture of the original recordings. Amazing digipack has insert with twenty-five unseen pictures, and a great biography told by their guitar player and founder, Enrique Ego Aguirre. Includes as bonus a never-before seen homemade footage of the band from early 1966. Band members were key components of later Peruvian bands like The (St. Thomas) Pepper Smelter, Gerardo Manuel & El Humo, PAX, Los Drag's, Los Nuevos Shain's, Kabul and others.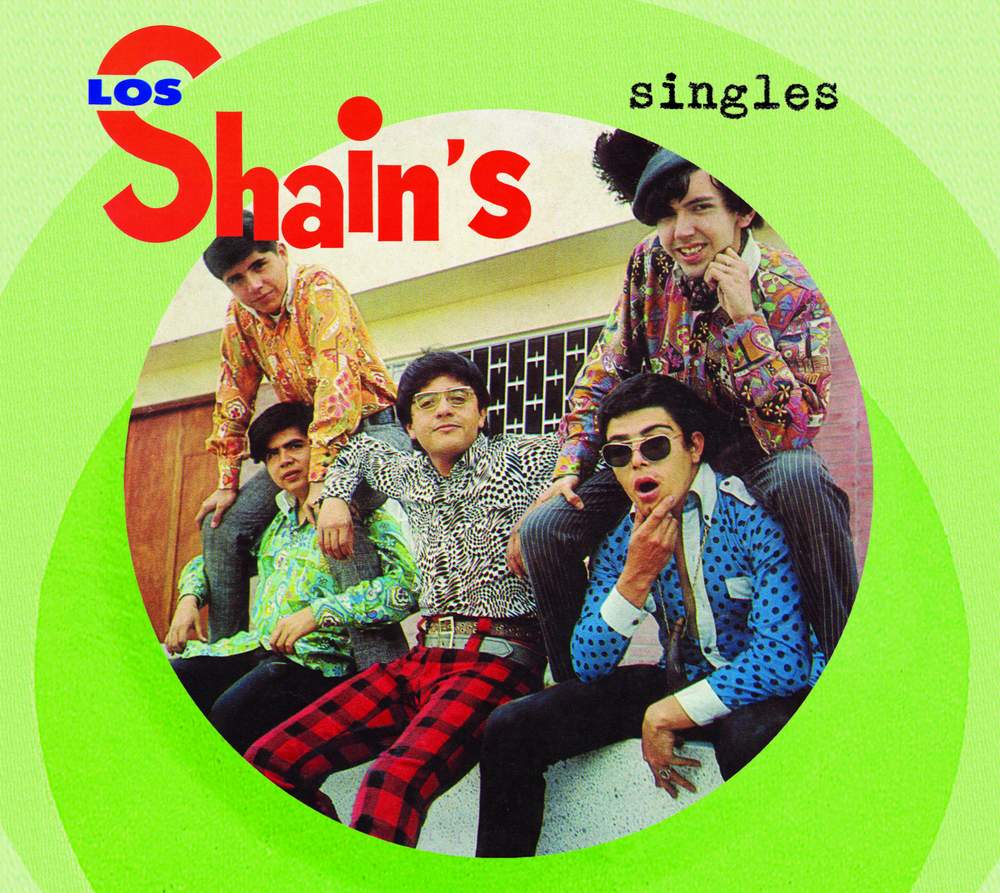 LOS SHAIN'S "Singles 1966-1968" (CD 1013)
First time on CD–an amazing collection of non-album singles tracks from legendary Peruvian garage band Los Shain's! Most of these tracks–all recorded between 1966 to 1968–have the band's classic line-up: Gerardo Rojas, Enrique Ego Aguirre, Beto Tataje and the Barreda brothers. Here, too, you will find the first song recorded by Gerardo Rojas (later known as Gerardo Manuel from bands like: The (St. Thomas) Pepper Smelter, Gerardo Manuel & El Humo and PAX). This 14 track CD includes Spanish versions of The Royal Guardsmen's 'Snoopy vs. the Red Baron,' Question Mark's '96 tears,' Paul Revere's 'Louie, go home' and 'Kicks,' and many others–a great CD for any garage or sixties music lover. This disc features sound taken from the original master tape reels, remastered using an analogue tube amplification system; this has made it possible to obtain superior sound quality without losing any of the texture of the original recordings. Amazing deluxe digipack has insert with more than twenty unseen photos, and a great biography told by their guitar player and founder, Enrique Ego Aguirre. Includes as bonus a never-before seen homemade footage of the band from early 1966››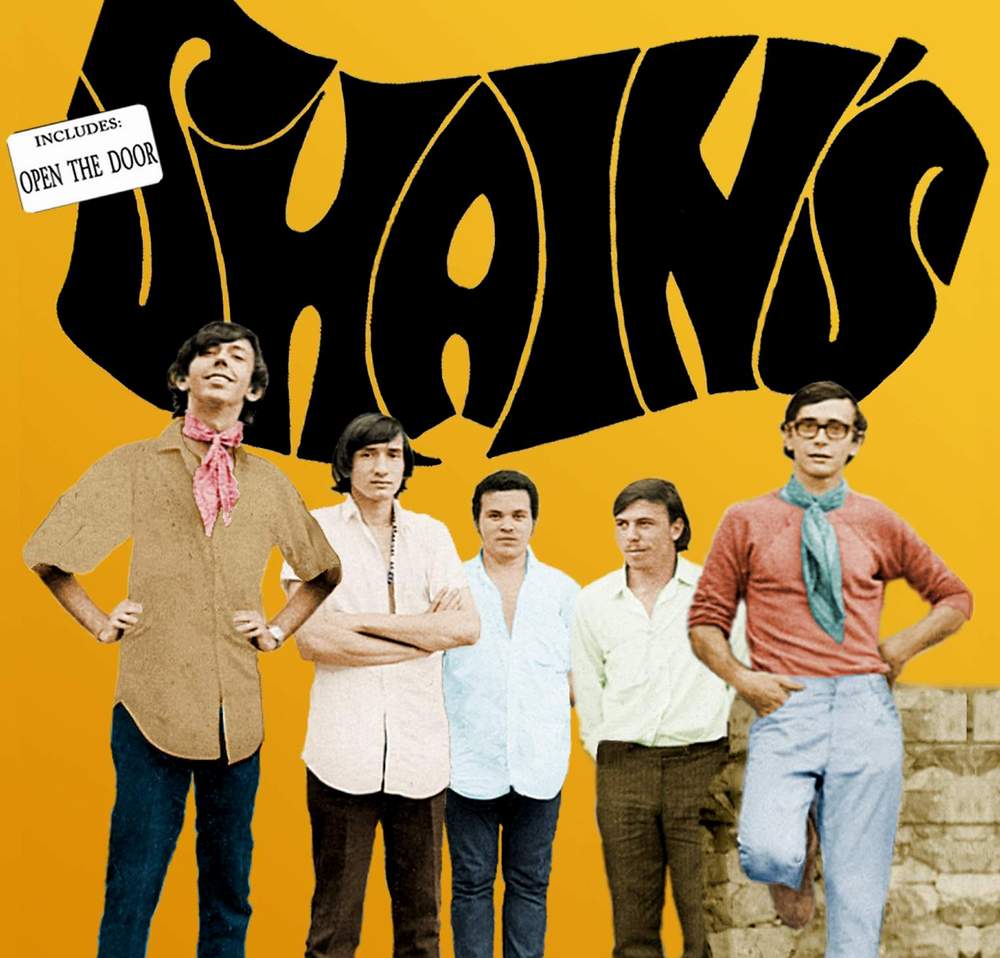 LOS NUEVOS SHAINS "Singles 1969-70" (CD 1003)
After the legendary Peruvian garage group Los Shain's broke up, Enrique "Pico" Ego Aguirre (guitar), formed Los Nuevos Shain's–a short lived band which released one album and some singles with many different line-ups. This release contains all their singles and four unreleased tracks. They played cover versions of Santana, Cream, Jimi Hendrix Experience, Strawberry Alarm Clock, Jefferson Airplane, Spirit and many others. The music is characterized by vast use of fuzz, wah-wah guitars, flashing organ and loud drumming, sometimes using hypnotic dreamy melodies with freakbeat and wild vocals; all tracks are sung in english. In 1970, Pico plays on Gerardo Manuel & el Humo's "Apocalipsis" album, but then Pico founded his own band PAX, which played hard rock music and was heavily influenced by Black Sabbath and Led Zeppelin but with yelling vocals. This is the first time that this band appears on CD format, and the source was the original reel to reel master tapes. Nice artwork in the including lots of unseen photos of the band, as well as photos of the master tapes and original records. The ultimate deluxe reissue for this music. Comes in a standard digipack.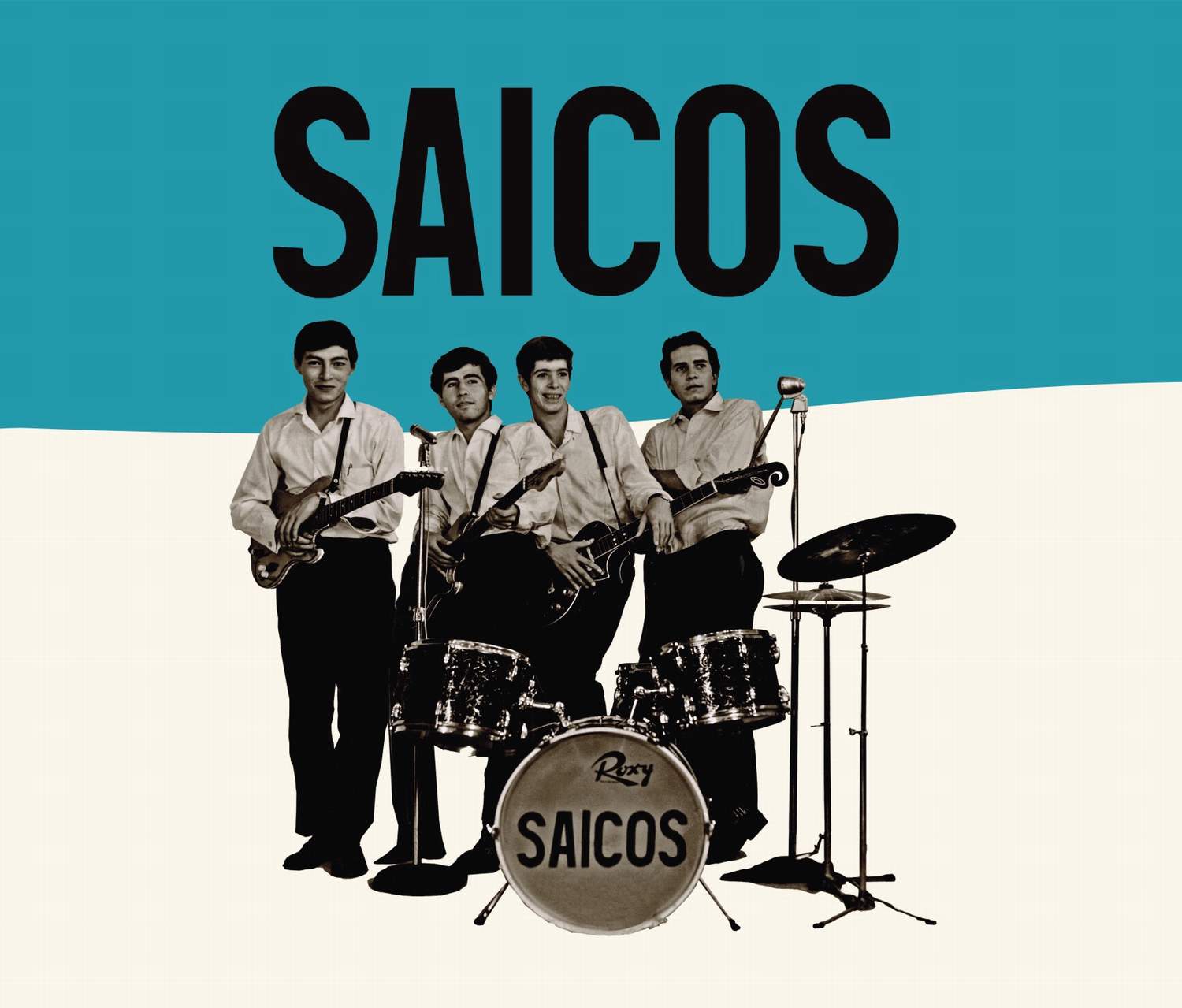 SAICOS "S/T" (CD 1008)
Even though they listened to the best-known British Invasion bands, Peru's great Saicos came up with a wild garage/surf sound that was unlike anything else recorded in Latin America at the time. The band released all but one single through the small DisPerú label, thereby unleashing "Saicomania" and leading the way for dozens of bands throughout Peru. They became legends, and many myths were created due to their short existence and mysterious disappearance. Saicos were also probably the only garage band anywhere to have been the most successful pop act in their country, as they were in 1965. Their anthem 'Demolición' was one of the biggest radio hits of the year in Peru–and simply put, it is one of the most insane '60s punk songs of all time; if you've never heard it before, it will stop you in your tracks and implant its amazing refrain in your brain for days to come. And while there is no doubting that 'Demolicion' is the star of the show, that is not to say that the rest of the material is lacking. All told, Saicos recorded and released enough material for six singles, all of which are included here, along with unreleased, alternate mixes of two songs. Cool fuzz-rockers and brooding ballads all delivered with gravel-throated authority, making their CD debut almost 40 years after the band broke up in a lovely package packed with photos. As our friends at NYC's Other Music said: "Cool collection of Peruvian garage rock, circa 1964 to 1966. Raw snotty and raucous, many consider Saicos to be the first punk rock band ever! Fans of MC5, Monks and the Sonics will want to check this out!!" This is more than a pretty good record; this is something special.
*There are two different special CD editions: 1) a jewel case version, with an outer slip-case; 2) a digi-pack special deluxe edition, with additional photos.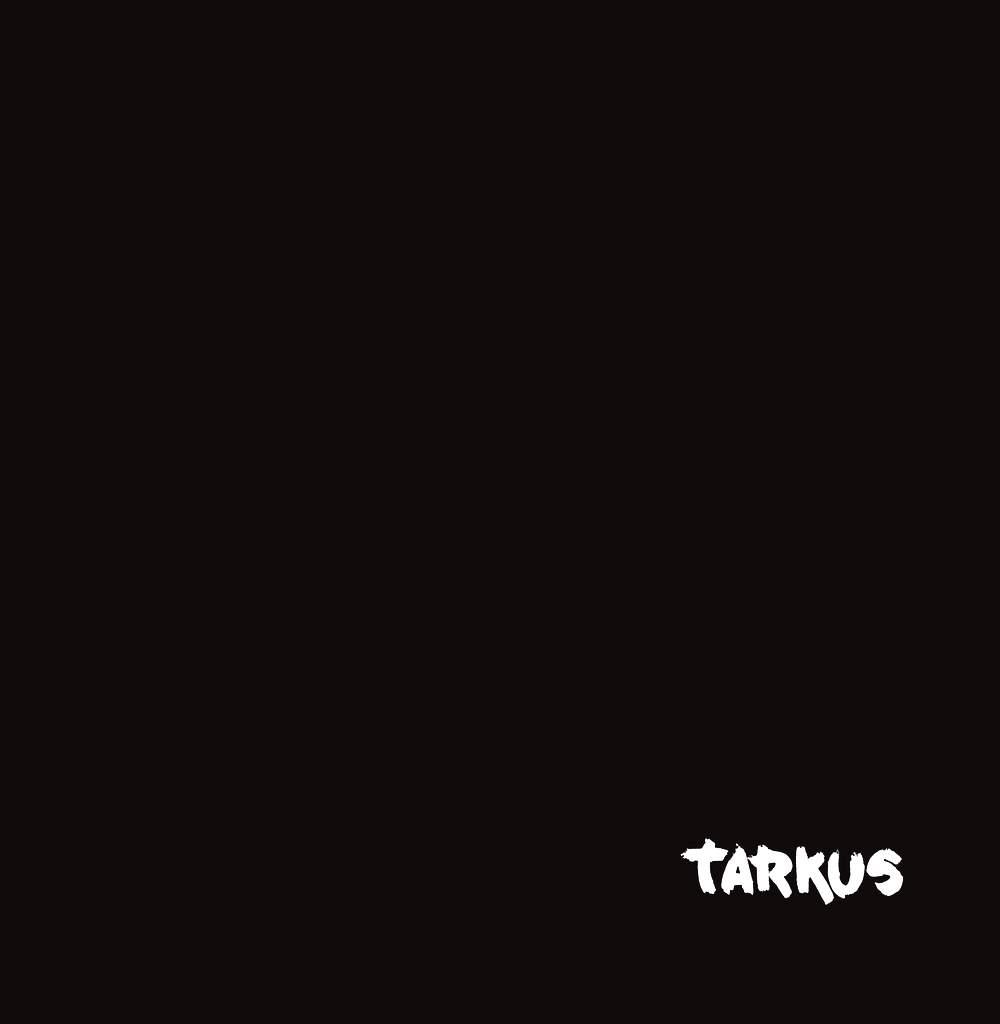 TARKUS "Tarkus" (1972) (cd 1007-B)
Continuing with their new series of "updated" versions, Repsychled Records will release another jewel box issue, this time the album of choice is the only record by Tarkus. In early 1972, Telegraph Avenue broke up. Walo, the drummer, was visited by two friends from Argentina: Guillermo Van Lacke and Darío Gianella. This trio began to play some music at Walo's place. Finally, Alex Nathanson joined them as the singer, but now singing in Spanish. And so, these two ex-Telegraph Avenue members along with the two Argentine musicians began to play heavy rock music in Lima. They called themselves Tarkus–and they were definitely too loud for the scene of that time! Their eponymous album was recorded (on eight channels) in only five weeks, and features all original tunes–the first heavy rock LP from South America. And what a record: eight tracks jammed with killer guitars, yelling vocals and powerful bass and drums. They had an original heavy sound influenced by Black Sabbath and Led Zeppelin, with touches of the music of Almendra or even Pappo's Blues. Re-packaged issue with 16-page booklet with lyrics, biography, press comments from news papers clippings, and some unseen photos that doesn't apperar on the "Deluxe version" (repsychled cd 1007). Artwork is reconfigured, with great photos from the band's personal archive. This reissue was created using the original master tapes, and was remastered very carefully with tube amplifiers. Support this licensed issue: it has great unseen photos and sound remastered from the original mastered tapes, all at a very economic price!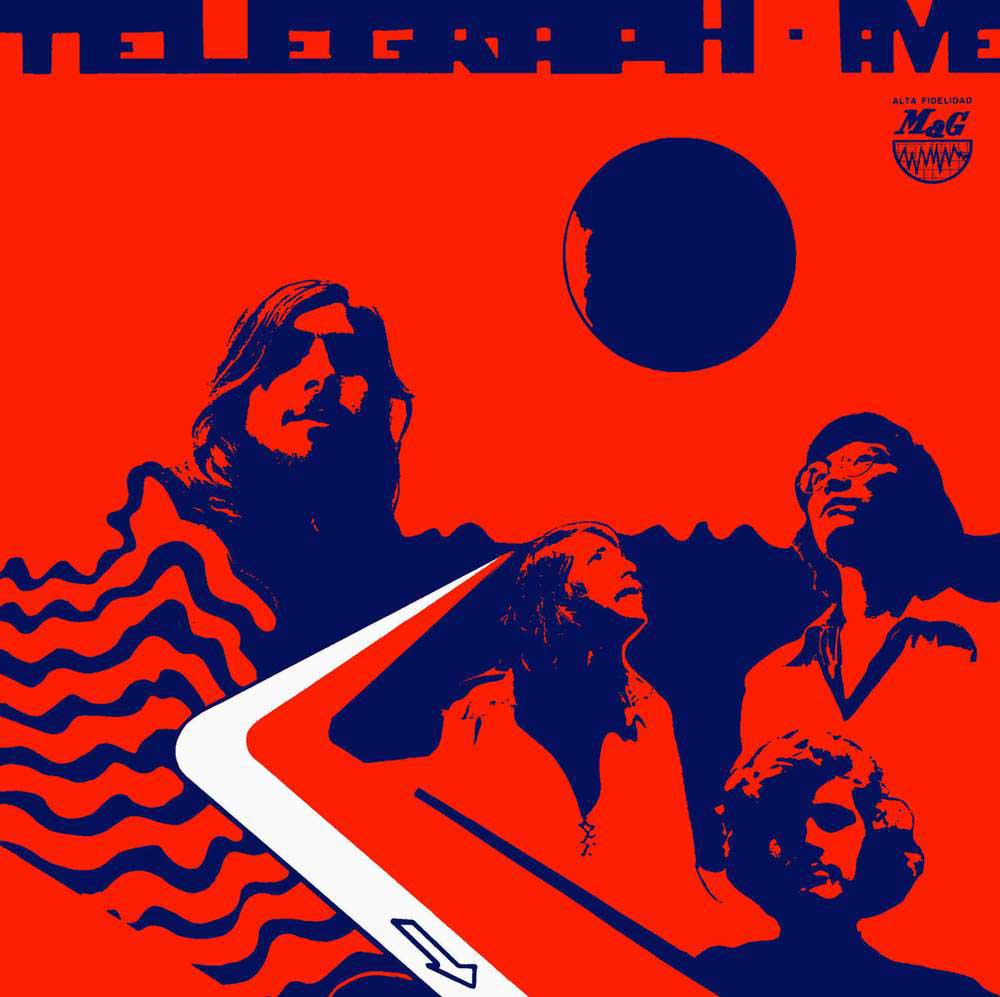 TELEGRAPH AVENUE "S/T" (CD 1006)
In July 1971, Telegraph Avenue's debut album appeared on the market in Peru, and became the best selling rock record of the year. The time was right for Latin rock with psychedelic touches (a fact evident all over the Americas), and Telegraph Avenue delivered: guitars saturate the amplifiers, using natural distortion and feedbacks, with Latin bass lines, powerful drums and Latin flavored percussions filling all songs with the uniqueness of their sound. Their songs sometimes sound like Grand Funk's early records, but others have vocal melodies more akin to a West Coast psych style. Now, 35-years later, Repsychled Records has the pleasure to present the definitive reissue of this album; this reissue is the first done using the original master tapes, and was remastered with tube amplifiers; it includes the original artwork in a gatefold mini-LP format, a booklet with unseen photos and souvenirs from the band's concerts, an extra insert with band biography, and an unreleased song. Limited mini cardboard sleeve edition.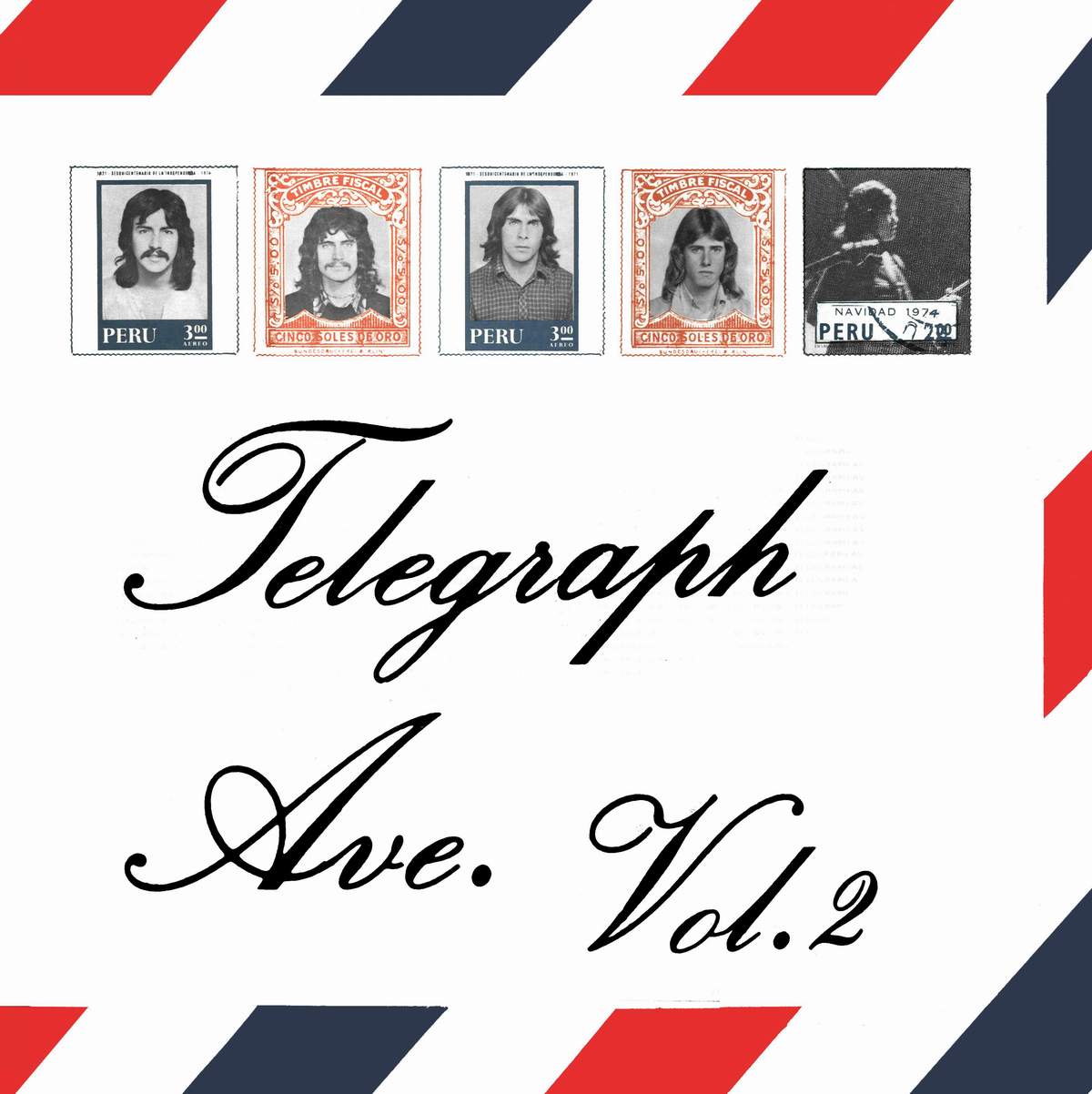 TELEGRAPH AVENUE "Vol. 2" (CD 1011)
Telegraph Avenue got their start when lead singer Bo Ichikawa, returned home to Peru after a six-month stint in San Francisco (thus the band name); the band's 1971 debut album (reissued as Repsychled CD 1006) soon became the best selling rock album of the year in their home country. By the end of the year, the band decided to take a break. During 1972, band members Alex and Walo formed Tarkus with two Argentine musicians; that band famously lasted only until September of the same year before they dissolved, but not before releasing their classic self-titled album (Repsychled CD 1007). Telegraph Avenue reformed in December of 1972, and the spent wrote new material throughout 1973 and 1974. Many of these new songs moved away from the band's earlier Latin rock style towards faster and more aggressive songs; and yet at the same time, other new tunes were smooth and slow, influenced by folk music. The second Telegraph Avenue album was finally released in late February, 1975. Shortly after the release of the album, the band dissolved. Their second record would prove to be the last album of Peruvian rock released in the 1970's–a military dictatorship essentially ended the music scene. Now, at long last, this second Telegraph Avenue album is reissued on CD by the Peruvian label Repsychled, in an edition that respects the original art; it comes with an additional insert with photos of the band, and includes the unpublished song 'If the sun refuses to shine' as a bonus track. The disc was mastered from the original tapes: a very delicate remastering process using tube equipment improved the sound while also preserving the force of the original album. Limited mini cardboard sleeve edition.
TRAFFIC SOUND"TibetŪs Suzette" (CD 1005)
Third LP from Traffic Sound (MAG LPN-2395), recorded in 1970, known for it's tri-fold pink cover, which is reproduced in this edition; features eight tracks of highly original material, full of "all out" improvised solos–some people call this their finest album. By this point, Traffic Sound had a strong, mature sound, unique in its mixture of psychedelic rock with Andean and Latin music. The hit songs 'Chicama Way' and 'Tibet's Suzettes' (the album is often referred to under this name) revealed the group's inner thoughts and the atmosphere that surrounded Peruvian youths in the early seventies. From the powerful rock of 'Yesterday's game' and 'What you need and what you want,' to the soft psychedelia of 'Those days have gone' and 'America,' this album is a must for any psychedelic collection. The group were very active on an international level after this LP was released, and never quite were able to reach this quality again. Not only were they were playing at the Tiffany and Galaxy Clubs and at private parties, but they also went on a tour paid by Braniff Airlines. The South American tour, the first one by a Peruvian rock group, took them to Chile, Argentina and Brazil. They were welcomed everywhere as pioneers of the new rock sound that was under formation in South America. This reissue is the first and only one done using the original master tapes, was remastered with tube amplifiers, and was manufactured under license from MAG Records.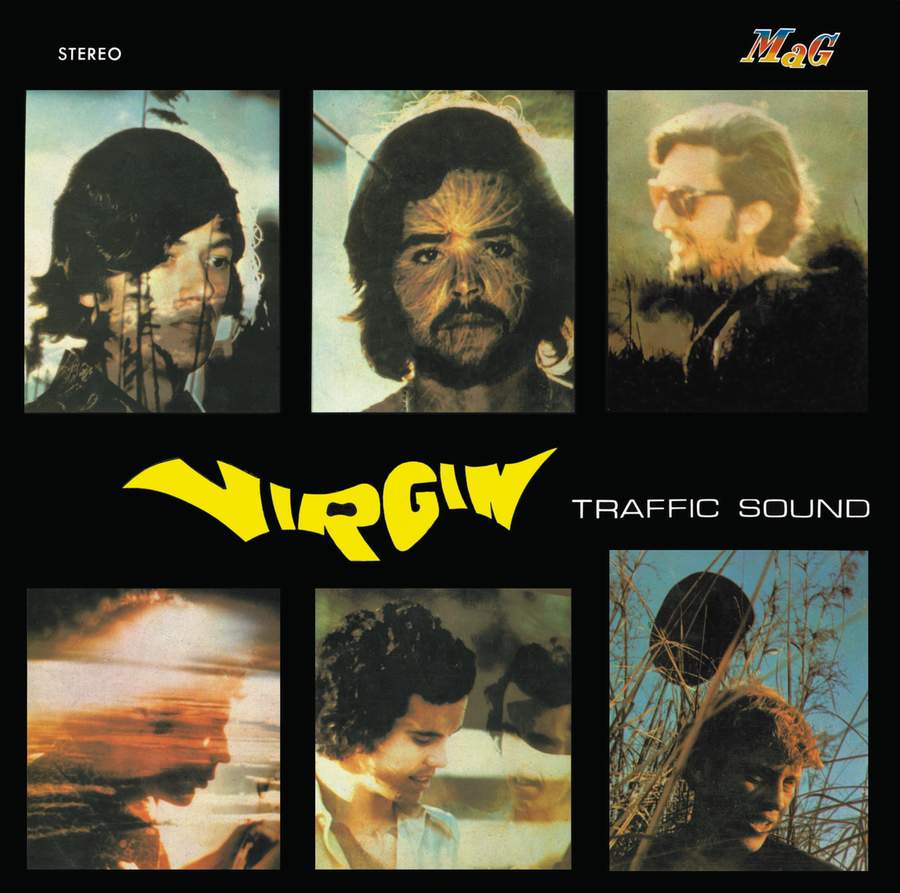 TRAFFIC SOUND "Virgin" (1970)›(cd 1004-B)
Repsychled Records has had the wonderful idea to make updated versions of some of their best-loved reissues. The first release in this new series will be Traffic Sound "Virgin." In January 1970, Traffic Sound's second album, "Virgin" appeared on the market. It was the first Peruvian rock album with 100% original tunes. The album contains the hit single 'Meshkalina,' a fusion of Latin rhythms, power rock and hippie lyrics; it also includes beautiful acoustic tracks: 'Virgin,' 'Simple' and 'Last song,' and progressive rock tracks like 'Yellow sea days' and 'Jews caboose.' The uniqueness of Traffic Sound made them very special– although influenced by bands like the Animals, Iron Butterfly, Jimi Hendrix Experience and Pink Floyd, they added their own original touches and created something new. Tired of gossip and hearsay? You can read a real biography of Traffic Sound, told by the band members! This re-packaged reissue–now in jewel box–includes a 16-page booklet with lyrics, band biography, and unseen photos that didn't appear in the previously issued "Deluxe Version" (repsychled cd 1004); it was created using the original master tapes, and was remastered very carefully with tube amplifiers. Support this licensed issue: it has great unseen photos and sound remastered from the original mastered tapes, all at a very economic price!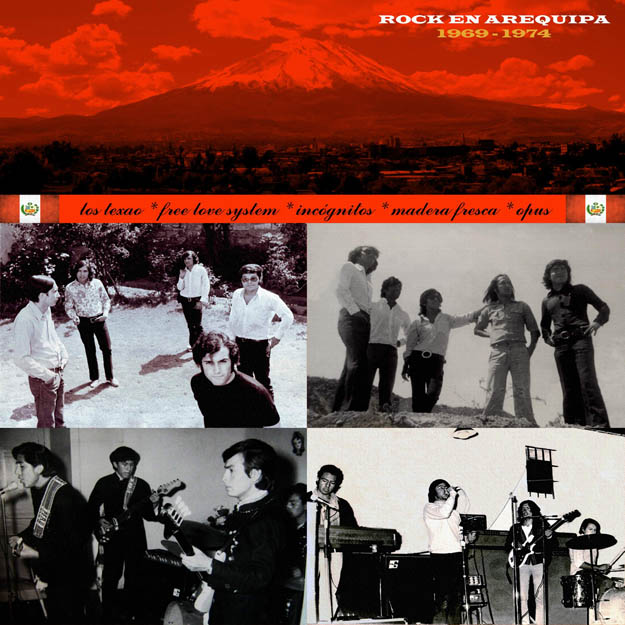 Various "Rock en Arequipa: 1969 - 1974" (CD 1014):
Twenty-one tracks (72 minutes), the best of the rare singles recorded by bands like Free Love System, Los Texao, Los Incógnitos, Madera Fresca, and Opus who thrived in Arequipa, Peru during the late 1960's and early 1970's. Arequipa? yes, Arequipa, the second most populous city in Peru, up in the Andes mountains at an altitude of 2,380 meters (7,800 feet) above sea level; Arequipa, nicknamed La Ciudad Blanca (The White City), nestled beneath the snow-capped volcano El Misti. Arequipa. Get your Peruvian beat fix with groovy tracks from Los Incógnitos and Los Texao. Want some face-melting psychedelia instead? check out Los Texao's 'Stone' or their fuzz-guitar laced instrumental 'Swarlb'—both a musical style called "Niebla" (Fog), because of the effect produced by the band's rotor amps and reverb and echo effects. (Los Texao were the first group in the province to record using FuzzTone effects, using powerful Dynacord amps imported from Germany). Prefer a more laid-back style? then you'll love Free Love System. Looking for some heavy grooves? 'La pelea del gobernador' (Los Texao) or 'Un paseo por el recuerdo' (Free Love System) might do it for you. Sixteen-page booklet has mini-biographies of all five bands in Spanish and English; all tracks are from the master tapes, with the exception of Madera Fresca's freak out 'Any Time'—a classic at parties—and their acoustic version of 'La lenta que apura,' both rescued from the obscurity of a rare cassette. The first regional rock compilation from Peru's rich and mostly undiscovered musical history, but certainly not the last!
LION PRODUCTIONS with REPSYCHLED RECORDS (Peru)


WE ALL TOGETHER "Singles"
This joint effort of Lion Productions and Repsychled Records of Peru presents that nation's answer to the Beatles and Badfinger! When the people of Peru heard the first singles by We all together in 1972, they thought that these songs were the work of a foreign group–this because of the high quality of production demonstrated therein. The band's songs were fashioned after the lighter side of the late-'60s Beatles sound–not to mention the early solo John Lennon and Paul McCartney material–with melodic tunes, vocal harmonies, and sophisticated arrangements which blended keyboards, acoustic guitars and electric guitars in a graceful manner. The reason for We all together 's excellence is simple: the band members had been around many years, first as New Juggler Sound, and then as Laghonia. The Peruvian scene at the beginning of the 1970's, still very influenced by the psychedelic experimentation of the 1960's, colored the way that the band shaped its songs, made its drawings and developed its recording techniques. This disc contains the thirteen We all together singles that did not appear on either of the band's LPs. Audio mastered from the original tapes using tube amplifiers by original band member Saúl Cornejo with Miguel Vance in MCA studios, Lima - Peru; bi-lingual 24-page booklet with rare photos, band history, as well as drawings and watercolors painted by Manuel Cornejo during 1971-73. The cover image was painted by band-member Manuel Cornejo for a possible third We all together album that never came to fruition.
Catalogue number: Lion 615 (CD 1009)
UPC number: 778578061524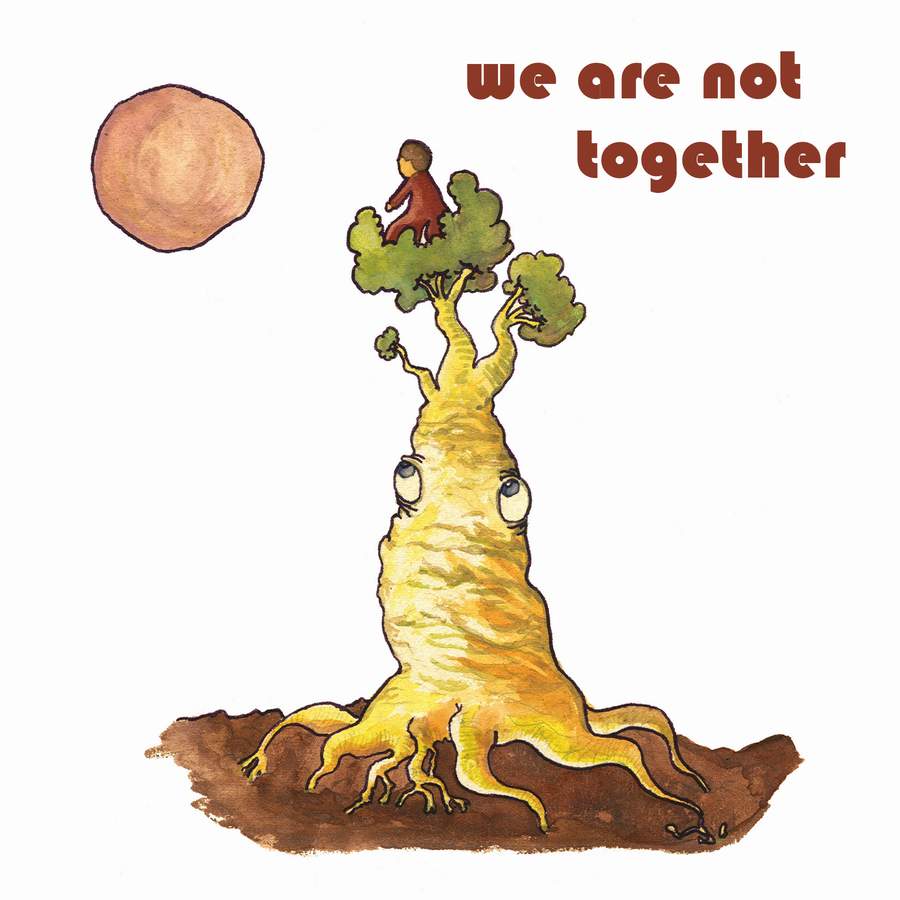 WE ALL TOGETHER & FRIENDS "We Are Not Together"
Second joint effort of Lion Productions and Repsychled Records of Peru brings together an abundance of rare tracks recorded at MAG studios in Lima, Peru between 1968 to 1974 by members of We all together along with various musician friends of the time (and a few relatives too). Some of the songs are originals, others are covers–what they all have in common is the musical skill that Carlos Guerrero, Saúl Cornejo, Manuel Cornejo, Ernesto Samamé, Félix Varvarande and Carlos Salom brought to these varied projects–some recorded prior to, some after the creation of their great band. Eight different groups of musicians (Illicit, Smog, Carlos Guerrero & Nilo Espinosa orquesta, FE 59, Cerro Verde, Beto Villena & We All Together, and Monik) produced rich and varied music of uniform excellence! Audio mastered from the original tapes using tube amplifiers by Saúl Cornejo, Miguel Yance and Andrés Tapia in MCA Studios, Lima — Perú; watercolors and drawings painted by Manuel Cornejo during 1970 —1972.
Catalogue number: Lion 616 (CD 1010)
UPC number: 778578061623